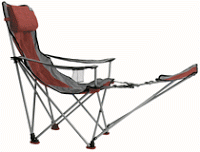 Are you looking for heavy-duty chairs to fit all of your seating needs? We have exactly what you are searching for at Everywherechair.com. We have some fabulous heady-duty folding chairs that are perfect for any occasion. These chairs are built tough and heavy-duty in every way. They are designed to take the weight that is put on them. The oversized seats provide a comfortable, relaxing experience. The stylish designs that we offer will give you plenty of options to choose from. You will surely find the heavy-duty chair that you are searching for.
The Heavy-Duty 18 Inch Aluminum Frame Director's Chair will have you calling all of the action. This heavy-duty directors chair is built bigger and stronger than our regular aluminum frame director's chair. This version has a Dowell reinforced tubular aluminum frame for added strength. Additional seat width and depth afford ample seating space. This heavy-duty director's chair is over 3 inches wider at 22.75 inches between the armrests and a depth of 19.5 inches. This director's chair features a polyester fabric that is mildew resistant and spot washable. It is lightweight enough to take anywhere you need to go. This director's chair is available in black, blue, green and red.
The Bubba Hi-Back Quad Chair by TravelChair provides you or your loved one with premium comfort wherever they need it. At a great sale price, this chair is surely the chair for you. This heavy-duty chair features a wider full-length sling seat. This seat can handle a larger weight capacity over other chairs. A drink holder is featured in the armrest so you can enjoy your favorite beverage while you relax. A contoured detachable pillow headrest will allow you to kick back and relax in style. You will also receive a matching storage/carrying bag with adjustable shoulder strap and drawstring closure to easily transport your heavy-duty chair anywhere you need to go.
Now, you can take comfort to an entirely different level no matter where you need to be. The Big Bubba Quad Chair with Footrest provides ultimate comfort on the go. The Big Bubba Quad Chair with Footrest provides full-length comfort and support with an adjustable footrest. The footrest is removable if that is desired. You are receiving two chairs in one with this exciting feature. The strength and durability of this heavy-duty chair is unmatched. You will even have a headrest and cup holder. Right now you can take advantage of an amazing sale price. Black, blue, red and green colors are available.
These chairs, and our entire inventory of heavy-duty chairs, are built for added weight capacity. You will love the great low prices that we offer. You have a busy life on the go. With these chairs you will be able to relax in comfort no matter where you are. Take a seat today and view our entire inventory at Everywherechair.com.