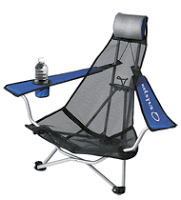 Every sports fan looks forward to baseball and football season. It is even better when they are able to attend a game. There is nothing better than watching your favorite team pulverize the opponent. The atmosphere is exhilarating and the crowds are booming. But you don't want to end the event with unwanted back pain? The bleachers at the stadium were not made for comfort and back support. An easy solution to the problem is to bring along an event chair.
With the Ventura Seat Portable Recliner Chair by Picnic Time, you will be given the back support and comfort you need to enjoy a great game of baseball. It is made using an adjustable steel frame and polyester cover that are durable and made to last. This event chair comes in four different colors: blue, lime, red and black. The event chair can adjust into ten different positions; it is just what you need to fully enjoy your favorite team playing a great game. The Ventura Seat Portable Recliner Chair is also great to take camping with you. Sitting around a campfire could not get any better with this comfortable event chair to keep you relaxed.
Outdoor activities are great. Camping can be fun and exciting, but it can also take a toll on your body. The last thing you want to do is sit around a campfire at the end of the day on the hard ground. Your back will start to ache and it will eventually take away from some of the excitement. Insure that you are as comfortable as you can be, and you can do that by using the Trail-Sling Ultralight Backpack Chair. This event chair only weighs 23 ounces and compacts in to the size of a water bottle. It is quite handy when you are camping and you don't have a lot of space for your things. This off the ground event chair is the ultimate chair for comfort.
In the summer time, a day at the beach can be exciting and a way to wind down and loosen up. After splishing and splashing in the water, the one thing that is most irritating is getting all sandy afterward. One way to reduce the amount of sand sticking to your body is the Special Edition Mesh Backpack Outdoor Chair by Kelsyus. This event chair will keep you propped up and reclined for a relaxing day at the beach. The mesh fabric allows wet swimsuits to dry quickly and as a plus, it stays cool to the touch. This portable chair comes with armrests and drink holders for your convenience. It also has zippered compartments to store any little knickknacks you have.
Enjoy the outdoors and events in comfort. Do not let the opportunity for back pain to arise and ruin your day. Check out our selection of event chairs and you will be pleasantly surprised by our options. Just stop by Everywherechairs.com to place your order today.