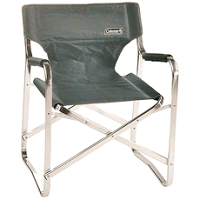 The springtime is here and everyone is looking forward to camping season. Camping with the family or friends is an enjoyable time for all involved. But, you can only do so much hiking. You need a place to sit. Of course, we have you covered at Everywherechair.com. We have tons of camping chairs to choose from. Camping is a blast, but comfort is great, too. Our camping chairs will have you kicking back and relaxing in the great outdoors in total comfort. Here are some wonderful camping chairs that may interest you.
You will surely be able to enjoy the crackling of the campfire while relaxing in the Wilderness Recliner by GCI Outdoor. This awesome camping chair has loads of features to help you enjoy your evenings after a long day of fishing. The Wilderness Recliner by GCI Outdoor features BackComfort Technology. This allows for back support in any reclining position. You can even adjust the straps and use them as backpack straps to transport this camping chair. The camping chair features a padded top bar and a mesh cup holder to hold your favorite beverage. A mesh pocket is located on the front leg rest to hold cell phones, keys, playing cards and much more. The Wilderness Recliner by GCI Outdoor will have you relaxing like the greatest of all outdoorsmen.
When you are camping in the woods, there is no better situation than to be sleeping up off of the ground. The EZ Trailblazer Portable Travel and Camping Cot is a fabulous way to help you relax and sleep comfortably after a long day of hiking. Made from a high quality aluminum frame, this cot features a polyester canvas bed. The polyester cover is washable and mildew resistant. The EZ Trailblazer Portable Travel and Camping Cot is 76 inches in length. The width of the camping cot is 24 inches wide. This camping cot stands 8 inches off of the ground. All you have to do is fold up the cot, put it in the carry bag and you can transport it anywhere. Blue and green colors are available.
Coleman is certainly a brand name that makes you think of the great outdoors. The Coleman Folding Deck Chair is a fabulous camping chair that will fit all of your outdoor relaxation needs. This camping chair features padded armrests and a backrest for increased comfort. Sewn in carrying straps allow you to quickly fold up your camping chair and head to your next destination. The lightweight reinforced aluminum frame will be easy for you to carry. No matter what your camping needs are, we have just the camping chairs for you at Everywherechair.com. Stop by our sale section and get ready for the camping season.