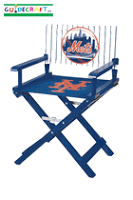 There are many ways to show which sports team you love. At Everywherechair.com we have some exciting chairs that feature your favorite sports team. You will be able to show off your team colors and logo with pride and cheer them to victory. Your friends and family will surely know which teams colors run through your veins. We have different styles and colors for you to choose from. There are even exciting chairs for your children.
Our Kids MLB Team Chair's will certainly be a homerun with your child. He or she will be able to root for their favorite baseball team in his or her own kids director's chair. These fabulous kids director's chairs are handcrafted from solid birch wood. These officially licenses Major League Baseball director's chairs are hand painted in brilliant team colors. The chairs are perfect for children ages 5 to 12. Every Major League Baseball team is available. With the holiday season quickly approaching, this kids director's chair would be a great gift. Your child will be all ready for Spring Training.
There is nothing better than experiencing the stadium atmosphere and rooting on your favorite team. But, we all know that stadium seats are not the most comfortable. We have a few valuable options for you to make your stadium experience more enjoyable. Our College and MLB Logo Stadium Seat will give you the comfortable experience that will have you cheering late into the game. This stadium seat is made from white powdered coated steel. Two hinge clips connect directly to the stadium bench for a secure fit. Your favorite teams logo will be featured on the front and back of the backrest. The backrest is slightly angled for added comfort.
Are you looking for the ultimate tailgating experience? We have just the team chair for you. Our Team Adult Folding Quad Chairs are the perfect tailgating accessory that will have you relaxing in comfort before, or after, the big game. Your favorite teams logo will be on the front and back of the chair. This unique chair folds up and comes with a water resistant carrying bag. This folding quad chair also features a cup holder directly in one armrest. A foam padded back will give you ultimate comfort.
Sports bring added excitement to our lives. You can show off your team colors in every way with one of these exciting team logo chairs. These chairs are only a small example of our team logo inventory. You can even add a team blanket to your order for those cool days out tailgating. The holiday season is only a few weeks away. You can beat the rush and get some of your holiday shopping done early this year. We are pleased to announce free shipping on selected items. Stop by Everywherechair.com to place your order today.