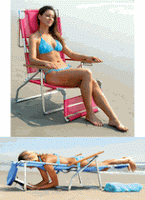 Beach chairs are always an important item to have during the summer months. Now is the time to take advantage of great sale prices. At Everywherechair.com we have a large variety of beach chairs that are on sale. With a few clicks of your mouse you will be prepared for those relaxing days next summer. These fantastic chairs will have you lounging in style. With the holiday season quickly approaching, what better time of year to warm up someone's heart than with a new set of beach chairs?
Quality is important when purchasing beach chairs. Our Oak Folding Beach Chair with Leg Rest brings premium handcrafted quality, strength, safety and stylish design to the table. This handcrafted chair allows for four different position angles. Solid oak frames are finished with a marine spar varnish to give an excellent look. The solid brass hinges and rivets will hold up against the harshest weather conditions. The fabric is a Sunbrella Material that comes in a large variety of colors. You will be able to find your favorite color and enjoy hours of comfortable use with this fabulous beach chair.
Right now you can take advantage of a great sale price on one of 2008 hottest models. The Ostrich 3 in 1 Beach Chair (see photos) gives you functionality like never before. This new design offers an ultra level of comfort in every position possible. Most importantly, this beach chair allows the user to read a book while laying face down on the chair. A patented see thru opening with face cushions allows comfortable reading in this normally uncomfortable position. The beach is supposed to be a relaxing experience. This chair will give you comfort in a variety of ways. A foldout cup holder will let you enjoy your favorite beverage in style. Transporting your beach chair through the sand shouldn't be a hassle. You will not have to worry about how to carry this unique beach chair because it is lightweight and features a carrying strap for easy transport. This beach chair comes in pink, blue and white strip and royal blue colors.
If simplicity is what you are looking for, the Sun and Sand Beach Chair is perfect for your seating needs. This durable and comfortable beach chair is great for that spontaneous trip to the beach. This easy fold-up beach chair allows for easy transport. An optional carry bag is available for easy storage. There are a variety of different colors that you can choose from to create your perfect beach chair. This chair features a weather resistant fabric, so you will not have to worry about your colors fading from the elements. An optional canopy is available for those of you that like to bring a little shade along with you to the beach.
Be prepared for the spring and summer with a few of these great beach chairs. You simply cannot beat the great sales prices that are going on right now. Kick back and relax in a comfortable and stylish way on your next trip to the beach. You will find everything to fit your seating needs at Everywherechair.com.